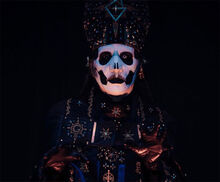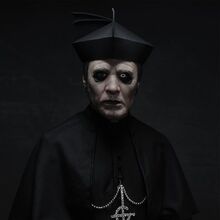 Papa Emeritus IV (formerly Cardinal Copia) is the fourth and current frontman of Ghost. He is stated to be the first frontman to not be a part of the Emeritus bloodline, though it is heavily implied he is the bastard son of Papa Nihil and Sister Imperator. Currently, only one album has had him as frontman, Prequelle. He is played by frontman and founding member Tobias Forge. This is the first character Tobias has played since his identity was revealed.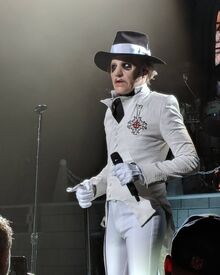 Appearance
[
]
Like the Papas before him, Copia is played by a masked Tobias Forge. Some fans have speculated that his mask in particular is inspired by the face of late American actor Vincent Price due to their similarities.
Copia is a middle aged man of average height. He has medium-length black hair, most often combed back, and somewhat prominent sideburns, alongside a pencil mustache. His first official appearance featured him in a black Cardinal outfit with an accompanying hat. His face paint, unlike previous frontmen of the band, was minimal, only covering his eyes. This denoted his junior status and that he was yet to "deserve his skull paint"[1]. He has also been stated as being "the more limber of all of [the Papa's]"[2].
Copia also has three different outfits: A red version of his Cardinal outfit, a black leather dressed down outfit, and a white tuxedo with a black hat. He also earns a new blue papal gown and mitre when he is anointed Papa Emeritus IV.
History
[
]
Cardinal Copia was first teased in January 2018, when Ghost's official Instagram page uploaded a video of an unseen man (now known to be Cardinal Copia) playing an 8-track of Ceremony and Devotion. [3]He was officially introduced in April that same year in the second Prequelle chapter, The Cardinal, in which he is anointed the new frontman of the band by Papa Nihil.[4]
On March 3rd, 2020, in the last show of the Pale Tour Named Death, Cardinal Copia was anointed Papa Emeritus IV.[5]
References
[
]