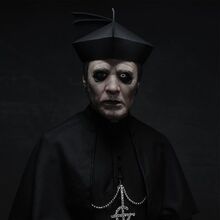 Cardinal Copia is the fourth and current frontman of Ghost. He is the first frontman to not be a papa or be a part of the Emeritus bloodline. So far only one album was released under him as frontman, Prequelle. He is played by frontman and founding member Tobias Forge. This is the first character Tobias has played since his identity was revealed.
On January 19, 2018, Ghost released a video on their Instagram where an unseen man who many believed to be Papa IV (some even said it was Papa Zero) is holding an eight-track of Ceremony and Devotion critiquing Papa III's vocal abilities and threatening to fight him. This was the first tease at Cardinal Copia.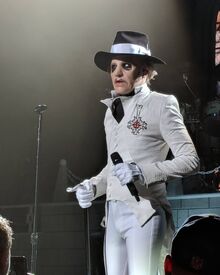 During a meeting with Papa Nihil and Sister Imperator, it is revealed that the Emeritus bloodline has run out, so breaking the chain is a must. When the Cardinal first comes in and greets Papa Nihil and the sister, Papa Nihil says: "You cannot be serious". Sister explains that Cardinal Copia is the next senior most member and has been Papa Nihil's right hand man. He also has the esteemed honor of having the second most employee of the month awards. Papa Nihil then agrees and blesses the Cardinal as the new frontman.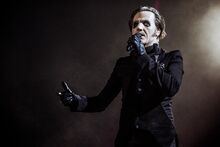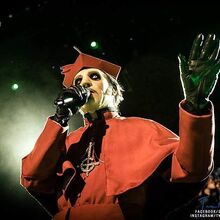 Copia is the protege to Papa Nihil and if Copia proves himself, he will become Papa Emeritus IV.
Copia has four suits: a black Cardinal suit, a red Cardinal suit, a black leather dressed down outfit, and a white tuxedo with a black hat. He has made his concert debut during the Rats! On The Road Tour where the band has debuted five new songs: Rats, Miasma, Pro Memoria, Faith, and Dance Macabre.
Starting on October 26, 2018, Copia and the Nameless Ghouls will be going on The Pale Tour Named Death Tour.
Community content is available under
CC-BY-SA
unless otherwise noted.